Having a swimming pool in their own backyard is most every homeowner's dream. With a backyard pool, you can go for a dip or swim a few laps whenever you feel like it. During summer, there won't be a need to make lengthy preparations and drive just to cool down — you can simply don a swimsuit and take a leisurely plunge into your own private backyard pool. This means no stress, no fuss and absolutely zero expenses — that is, other than your regular monthly pool-related expenses.
Backyard pools are also popular among families because they're a great venue for parties, get-togethers and quality family time. For those with kids, a swimming pool is a great way to introduce the benefits of physical activity early on. Those with elderly family members can also have their pool designed in such a way so that grandparents can use the pool for therapeutic exercises.
So, if you've decided to get a pool built or installed in your backyard, by all means, do so. But first, make sure you've got the perfect design tailored for your outdoor space. Not sure how or where to start? Here are some pointers on how to choose the best swimming pool design for your backyard.
1. Consider the space available
Is the available space wide enough to accommodate any pool size or shape? Is the place you have in mind for the pool irregularly shaped? Or is the designated pool area long and narrow? How about the ground? Is it level or sloped? Make sure you check the size and shape of your backyard as these will determine the possible pool designs you can consider.
Note that any pool design ideas you'll consider the need to integrate space designed to meet safety requirements and get the approvals needed to build or install your pool. Safety regulations also dictate the need to have the appropriate pool fencing so, again, the space required to accommodate this requirement must be kept in mind.
If you're planning on installing patio furniture near the pool, you'll need additional space as safety regulations caution owners not to put large objects too close to the pool fencing. This is meant to prevent the possibility of a child climbing over the fence and into a pool.
Large backyards are, of course, ideal for pool building as they make it easy to toss around various swimming pool ideas. They would be large enough to accommodate a large pool — that is, if it's what you want or need. There is also likely to be sufficient space for different pool landscaping designs to be considered.
However, if your backyard space is limited or if the area is irregularly shaped, deciding on the best pool design can be a tad challenging. Make sure you work with an experienced professional pool designer or builder to address design- or space-related problems. If you can't have an in-ground pool, you also have above-ground options (partial or full).
Whatever your pool space situation, you must still consider the following factors while deciding on the size and design of your pool:
The main users of the pool
If anyone will be swimming laps in the pool
Frequency of pool use
Whether you'll have patio furniture and other furnishings around the pool
The likelihood of growing your family in the future

2. Think of the functions you have in mind
As mentioned, a pool can mean many things to a homeowner. This is why it's essential to think of the ways you and your family mean to use it during your pool ideas brainstorming session.
Family bonding: Families with kids might prioritise using their pool for spending quality time together. This means playing games or having meals together in your patio. Aside from including fun pool features such as fountain bubblers or a basketball hoop, you need to consider additional safety features such as a pool door alarm and a self-latching pool gate.
Stress relief: If you envision using your pool for end-of-day relaxation, you might be better off having a spa pool combination. This option is also perfect if you have elderly family members or if you have a handicapped user undergoing physical therapy. With a spa pool, you won't need to go for a massage to get relief for your muscles and joints.
Exercise and training: Health buffs and serious swimmers who enjoy swimming laps will need to consider getting a lap pool. Runners, triathletes and all types of endurance athletes can benefit from having a lap pool as swimming in one not only helps with weight control but also strengthens the cardiovascular system, tones the muscles and builds stamina.
Again, by partnering with a reputable pool designer and or builder, you'll be able to come up with pool area ideas that successfully address concerns with size, function and design.
3. Look into backyard aesthetics
Just like other elements in your property, the final pool design must not clash with the look of your backyard, as well as the aesthetics of your property. The overall effect should be seamless and unified. Your swimming pool area should look like a natural extension of your home and the rest of your property. Therefore, it's essential to consider the following:
Style: Is your home built in a traditional or contemporary style? Do you have a pavilion, bungalow or cottage-style home? What geometric patterns or shapes predominate in the overall design?
Colour: Another key feature that can make or break the overall aesthetics of your pool design is colour. What is the dominant hue that ties your property together? Do you have a landscaped garden? What pool colour would best blend in with the natural and architectural elements of your property?
Material: There are three types of materials used for in-ground pools: concrete, fibreglass and vinyl liner. If colour is a priority, you may find that concrete pools have the most variations available, while ordinary fibreglass and vinyl liner pools are limited in this aspect. At Gordon Ave Pools & Spas, we offer customisable fibreglass pools by Compass Pools — which is a great thing for those who want a fibreglass pool but have specific requirements. In terms of durability, both fibreglass and concrete pools win hands down. However, both are substantially more expensive than vinyl liner pools. Concrete pools are customisable in terms of shape and size, whilst vinyl liners are less so, and fibreglass pools are fixed in terms of shape, size and depth. There are a lot of pros and cons to consider when choosing the right material for your pool, so make sure you consult with your pool designer and builder.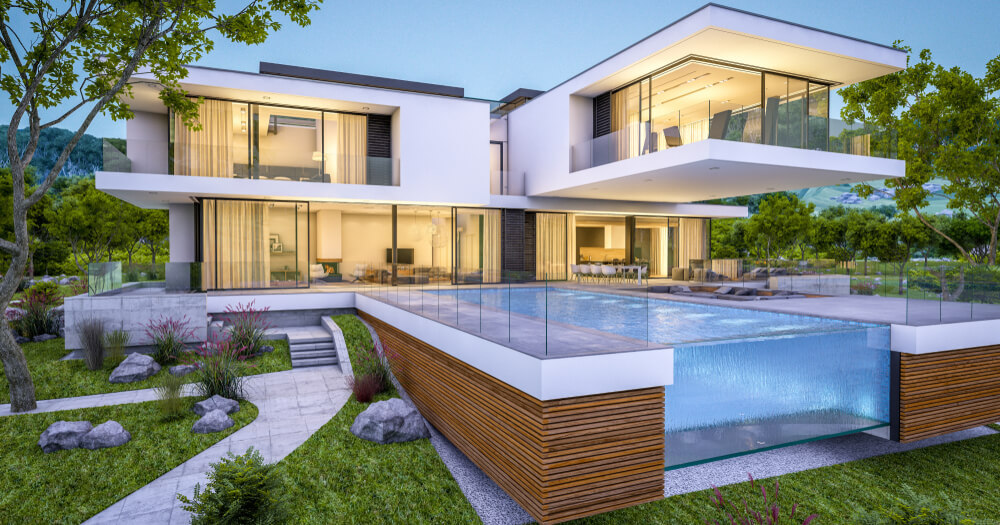 4. Decide on pool placement
If you have limited space for your pool, deciding on where to place it might be the easiest decision you'll be making in the process. However, you also need to ensure it is placed in an ideal spot where it complements the background and enhances the look of your property.
A bigger backyard space means more options to strategically position your pool, and also more design challenges. After all, you wouldn't want it to look like an afterthought or out of place. Here, you can enlist the help of your architect or pool designer. This is especially important if you have resale in mind for the future.
Remember, an oddly placed pool can cheapen an otherwise magnificent property, so you may end up losing money. But resale considerations aside, your pool should be appointed in such a way that it looks attractive with the rest of your property.
Pool placement can also impact the cost of building your pool as there are instances where it would be cheaper — construction-wise — to place it in a particular spot. However, your pool is not only supposed to be functional but also give you immense pleasure — whether in the way it looks on its own or in terms of the overall view of your property exterior.
5. Select the right landscape pool design
Once you've decided on the most appropriate pool design that fits your backyard space and meets your personal requirements, you can start brainstorming pool landscaping ideas.
In fact, each pool design idea you consider should already have an integrated landscaping design with it. This includes the different types of plants, shrubs, grass and trees that'll go well with the overall look of your pool area. Additional landscape design elements include stones or rocks, sculptures, water features, paving, fencing and lighting.
Whatever patio furniture, barbecue equipment and accessories you choose need to be carefully selected as well. Make sure to clearly communicate your ideas during planning. You could benefit from the professional input of a landscape designer who'll work with your pool builder from the beginning of your pool construction project.

Your happiness matters
A swimming pool construction project is a major undertaking that requires careful thought and probably a sizeable budget, depending on its size and complexity. This is why it's essential to start by choosing the best pool design that's suitable to your property and will serve the function it is meant to provide.
Avoid hurrying through the design selection process as how the rest of your property will look depends a lot on the final design you go for. Make sure you voice out your concerns and ask questions. Approve the final design only when you are well and truly 100% satisfied. This way, you can look forward to days of relaxation and enjoyment using your backyard pool.
If you need help coming up with the perfect pool design for your backyard, please get in touch with Gordon Ave Pools & Spas.
Our professional team of pool design consultants would be more than happy to work with you and give you a free trial or a free quote, so we can build the best customised swimming pool for you.